What Happens if You Don't Get Your Oil Changed?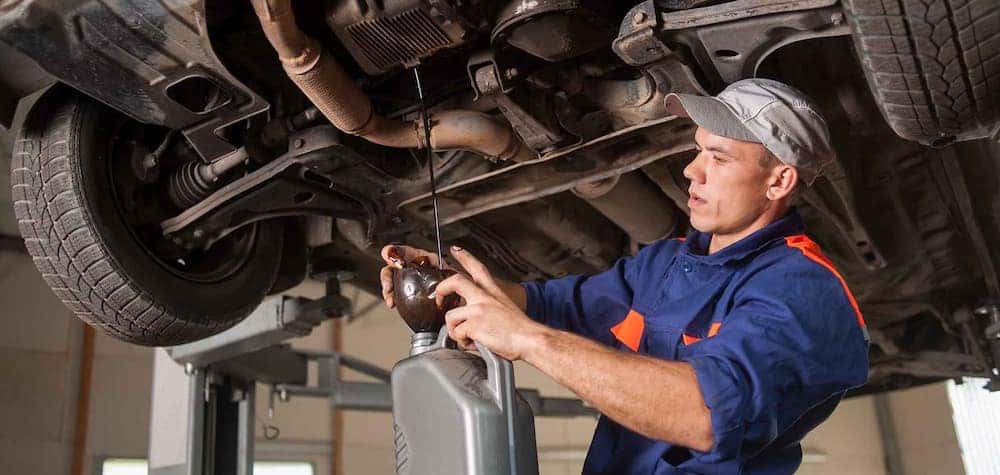 The oil in your vehicle is there to lubricate the engine and absorb heat from the engine components so your truck doesn't overheat. When your engine can't work properly, it can start to experience serious issues, so it's important to keep up with regular oil changes around Milwaukee.
Service Center Schedule Service
What Happens If You Don't Change Your Oil?
If there's no fresh motor oil to replace the old oil that's been used, the engine can't function properly, and the pistons can weld themselves to the cylinders because there's nothing to absorb the heat. When you don't change your oil regularly, dirt and debris build up, making it more challenging for the oil to move through the engine components. That can lead to overheating, limited fuel efficiency, and other issues as you drive from Northern Chicago to Racine.
How Often Should I Change My Vehicle's Oil?
You can go about 25,000 miles between oil changes for heavy-duty commercial vehicles and around 5,000 miles for light-duty vehicles. It's always a good idea to check your owner's manual to see what's recommended for your specific vehicle.
Get Your Oil Changed at the Lynch Truck Center Service Center
To learn more about the importance of routine maintenance, following a truck maintenance checklist, extending the life of your tires, or to get your oil changed, contact us or schedule an appointment in Waterford with our specially trained service technicians.
More from the Lynch Truck Center Service Center
The oil in your vehicle is there to lubricate the engine and absorb heat from the engine components so your truck doesn't overheat. When your engine can't work properly, it can start to experience serious issues, so it's important to keep up with regular oil changes around Milwaukee. Service Center Schedule Service What Happens If…

Whether you drive a small sedan or a heavy-duty commercial vehicle, keeping up with regular oil changes is vital to overall vehicle health on your Milwaukee drives. Not too long ago, oil change guidelines required more frequent services. With advances in oil and automotive technology, the lifespan of engine oil has drastically increased, and with…

Extending the length of your tire life not only saves your business money in the long run, but keeps you and your employees safe. At Lynch Truck Center we want to help you keep your tires in top shape for your jobs ahead. Learn more about the ways to keep up your commercial truck's tires with us…