ROLLBACK CARRIERS
YOUR ONE STOP SOURCE FOR ROLLBACK CARRIERS BUILT TO "TAKE IT"
View Rollback Tow Truck Inventory
Lynch Truck Center is the professional tower's one-stop shop for flatbed tow trucks, serving customers throughout southeastern Wisconsin and nationwide with new & used rollback tow trucks for sale that are built to "take it."Whether you need the durability of aluminum flatbed or the strength of steel flatbed, our inventory boasts a wide variety of new and used flatbed tow trucks & rollback wreckers for sale, built for versatility, durability, and performance.

CUSTOM-BUILT ROLLBACK TOW TRUCKS TO MEET YOUR SPECIFICATIONS
A proud distributor for Miller Industries, Inc., the nation's top rollback, tow truck & wrecker body manufacturer, Lynch Truck Center offers a full line of new Miller's rollbacks for sale, ready to be installed on the truck chassis of your choice including:
IHC
Freightliner
Peterbilt
Kenworth
---
Our wide selection of chassis are packed with quality features that customers have come to expect from such names as Century, Challenger, Champion, Chevron, Holmes, and Vulcan rollback tow trucks for sale. Take the popular Vulcan flatbed tow truck wheel lift system or Century's over-the-cab carrier deck to complete the perfect package for your new rollback tow truck whether it's for single or multi-vehicle transport.
With simple to operate hydraulic tilt mechanisms and impressive load angles, our new and used rollback tow trucks for sale are well suited for a wide range of applications that require operational ease with high-volume payload capacity.
Providing maximum comfort and safety, our inventory of rollback wreckers for sale are engineered to improve reliability and productivity, giving you the flexibility to meet any job requirement.
POWER AND COMFORT IN EVERY ROLLBACK TOW TRUCK FOR SALE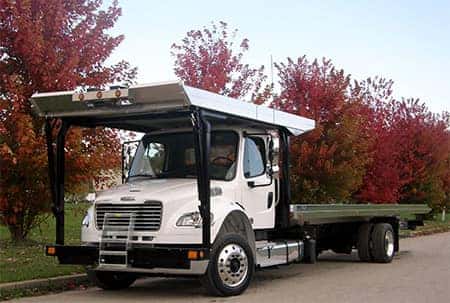 Lynch Truck Center is authorized to sell the full line of well-recognized brands: Century, Vulcan, Chevron, and Champion rollbacks for sale, which offer a multitude of practical features, incredible performance, and capacity needed for toughest recovery jobs.From smaller steel or aluminum flatbed tow truck to top-of-the-line rollback carriers, you'll find innovative options along with advanced safety features in each of our new or used rollback tow trucks for sale.
At Lynch Truck Center we also offer various options and add-ons to further increase the capabilities of our rollbacks for sale. For example, add wrecker's recovery capabilities and versatility to your rollbacks with a SidePuller!
Rollback tow trucks have become increasingly popular due to their ability to transport multiple vehicles, and versatility to haul varied loads. The one major flatbed tow truck drawback, the lack of wrecker recovery capabilities, changed with the SidePuller series. With the SidePuller you no longer have to decide whether to send a rollback tow truck or wrecker – your rollback carrier can work efficiently in all situations, saving money and time. SidePuller can be added to light, medium & heavy-duty rollbacks for sale, allowing your flatbed tow trucks to perform recovery operations with minimal lane blockage.
In addition to conventional rollbacks for sale, there are specialty LCG rollbacks for sale, specifically designed with 5 to 6 inches lower deck height to accommodate transport of taller loads that would be over height on standard rollback wreckers and would need to be hauled on a trailer. Additionally, LCG rollbacks for sale increase stability and enhance the handling performance of loads. LCG rollbacks are available in various deck lengths, with a variety of other options to fit your specific towing & recovery needs.
LARGE INVENTORY OF NEW & USED ROLLBACK WRECKER AND TOW TRUCK PARTS & ACCESSORIES
Lynch Truck Center's large inventory of Miller's rollback wreckers, parts and accessories, enables us to build rollback wreckers for sale – tailored to your exact specifications. We'll gladly arrange for you to see any of our rollback carriers and flatbed tow trucks for sale at either of our two locations: Lynch Truck Center in Waterford, Wisconsin or Lynch Chicago, in northern Illinois. Whether your business is based in Wisconsin or Washington, Lynch offers nationwide rollback tow truck & wrecker delivery and rest assured, our specialists will advise you on all the available options and will help you choose the right flatbed tow trucks for your operation.

Shop tow trucks for sale online – our inventory is updated daily! Call us at 1-262-514-4000 to speak with one of our knowledgeable and friendly sales representatives, and then stop by and see our complete line of new and used rollback wreckers & tow trucks for sale at Lynch Truck Center in Waterford, WI.