Hino and GM Telematics Systems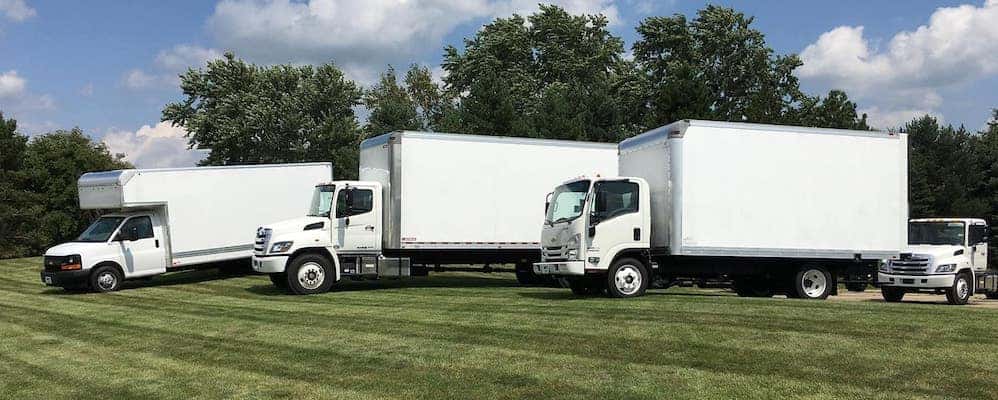 At Lynch Truck Center, we understand the importance of properly maintaining and keeping track of your commercial fleet in and around Northern Chicago. The best and easiest way to do this is through an integrated telematics system. Telematics blends the disciplines of telecommunications, safety, vehicle tech, and more to create a cohesive system that helps businesses effectively maintain, track, and record information regarding their commercial fleet. Let's take a closer look at what Hino and GM offer, from Hino INSIGHT to GM Commercial Link and OnStar.
Hino INSIGHT
Standard on all 2017 and newer models, Hino INSIGHT is a premiere telematics system. With everything from remote diagnostics to proper case management systems, this is a must have for Milwaukee area businesses. By using customizable dashboards, you can get up to the minute data on your fleet, including:
Driver and Vehicle Data: Monitor important aspects such as idle time, total distance traveled, and even current fuel economy
Alerts and Vehicle Health: Allows you to monitor emissions, DPF regeneration, as well as get alerts about vehicle status including engine temperature, RPMs, DEF levels and much more
Comparison Tools: Make sure your Racine area fleet is up to industry standards by comparing your fleets numbers against industry guidelines, other industries, and even other fleets from varying geographic areas
Track and Manage Your Assets: Quickly respond to lost or stolen assets, unauthorized vehicle use, and file claims effortlessly thanks to the history report with Driver ID
INSIGHT is designed to make your fleet, and your business, more efficient. Manage your deliveries, vehicles, drivers, and more easily and efficiently with the amazing Hino INSIGHT telematics system. Learn more about Hino INSIGHT on their site, or find out who makes Hino trucks to explore their history of excellence.
GM: OnStar and Commercial Link
GM has been a mainstay of the commercial industry for years. With loads of great vehicles, specialized commercial trucks, and more, GM knows how important keeping your Waterford business in order is. Let's see what GM telematics offer you.
OnStar

Fleet Safety and Security Plan

Automatic crash reports sent to an OnStar representative
Immediate emergency help for drivers
Aids with stolen vehicles, with notifications and assistance from authorities
Roadside assistance helps with emergency towing needs, fuel refills, jump starting, flat tires, and more
Voice-guided (if wanted) navigation can be sent directly to your drivers

Fleet Remote Access Plan

Remote vehicle access including remote start/stop, door unlocking, lights, and warning horns
Navigation tools, with voice-guidance if equipped
Real-time diagnostics

GM Commercial Link

Track maintenance needs, like tire pressure and engine status, and schedule service ahead of time
Monitor speed, average speed, and better gauge delivery times
Keep an eye on fuel levels, average consumption, and how often your fleet refuels
Plan routes, track vehicle location, and use real-time GPS
Effortlessly maintain vehicle data to allow for easier expense reporting
By combining the powers of OnStar and Commercial Link, GM fleets are primed to make your business a whole lot more efficient and smooth. Learn more about Commercial Link by visiting their website.
Connect Your Fleet at Lynch Truck Center
Creating efficiency in your business is integral to its success. Working with a commercial fleet means you need to seamlessly manage, track, and report on those vehicles. Hino INSIGHT and GM Commercial Link are two fantastic telematics systems to help you with that. Learn more by visiting our truck center in Waterford, or simply contact us online today!
More From Lynch Truck Center
At Lynch Truck Center, we offer an outstanding selection of new and used towing and recovery vehicles—including a vast lineup of Century wreckers, heavy-duty tow trucks and car carriers, Challenger wreckers, Ford tow trucks and carriers, Holmes wreckers and carriers, Champion carriers, and Vulcan tow trucks and rollback carriers. Still, there are other great reasons to buy…

Moving from the Ford Super Duty lineup into the range of Ford Chassis Cab models, you'll encounter powerful engines and leading capabilities that are no less impressive than those you're leaving behind. In fact, it may just be ideal for Northern Chicago-area drivers who plan on hauling more than they tow! What are the 2021 Ford…

Looking for the ideal truck for your delivery and moving operations? The Hino 268 is the gold standard among truck drivers and fleet owners thanks to its outstanding fuel economy, proven reliability, and strong residual value. A phenomenally low cost of ownership for the class seals the deal! To find out what advantages this powerful…